Due to the pigment dye in these t-shirts there can be some colour transference and additional fading after each wash. We recommend washing your tees with like-coloured garments on a cooler setting.
Our manufacturer employs industry-leading and environmental practices in adherence to it's comprehensive social responsibility program, named Genuine Responsibility They incorporate social; and environmental responsibility practices into its manufacturing processes, while providing a fair, safe and healthy workplace for all of its employees. WRAP are world leaders in helping organizations achieve greater resource efficiency- reducing nearly 50 million tonnes of greenhouse gases between 2010 and 2015 in England alone.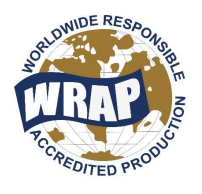 THE DREAM PROJECT
We know you want to help rewrite homelessness! That's why every purchase will help rebuild and renovate the community living space at Centenary House in Belfast, an accommodation facility for those experiencing homelessness. This includes things like, painting, refurbishing, and even requested appliances! The result? A healthy environment for people to feel safe, dream and thrive. With your help this DREAM SPACE will be a lasting giving product that will impact hundreds of individuals, reminding them that it's never too late to dream.
WEAR ONE SHARE ONE REIMAGINED
The foundation of our company is built on a 'Wear One Share One' concept. This is where we empower you with an extra product to share with someone experiencing homelessness in your community. Since COVID-19 began we've evolved our giving aspect into something bigger, and safer! Now, every purchase will go towards rebuilding and renovating the community living space at Centenary House in Belfast for those experiencing homelessness.
CENTENARY HOUSE
Centenary House is an incredible organisation based in Belfast, Northern Ireland that supports those experiencing homelessness. They provide a safe space for those working through drug addiction to recover, and with this project we want to help by creating a personalised dream living space that they can call their own. We are excited for the opportunity to work beside those making a difference here in the heart of Belfast.
YOUR IMPACT
With your purchase you'll be providing those experiencing homelessness in Belfast a healthy environment to feel safe, dream and thrive! We'll be bringing you guys along this journey with regular email, website and Instagram updates, so you can see the impact your purchase will be making in your community.⁠