POSTAGE FOR EXCHANGES
Remember - Every purchase includes a giving item for someone in need
Everyone changes their mind from time to time on the products we buy. OutsideIn want to ensure that you get the best customer service possible, and if you are unhappy with a product then we will happily exchange it for you. 
However, we cannot cover additional postage costs for returning products unless a product is damaged or faulty. Therefore, we kindly ask for a small postage fee of £3.00 to cover the cost of sending out additional products under these conditions:
- If you change your mind and would prefer a different product of the same price
- If you are dissatisfied with the size and would like to change your product to a different size
- If you receive two of the same product (e.g. as a gift) and would like to return one

If you have any further inquiries or would like to request a refund or an exchange on a product with conditions not listed above, please email us on info@weareoi.com. We will be more than happy to answer any questions you have.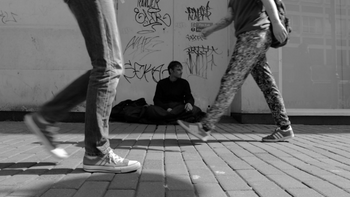 Intentional, Impactful Fashion.
In the age of fast fashion, we pride ourselves in choosing the quality of our products over quantity. Every. Single. Time. Plus doing all our printing/ embroidery locally allows us to provide work for homeless men and women.
Ethical Products That Makes a Difference.
All OutsideIn products are WRAP/SEDEX Certified and are part of the Fairwear Association. This means that all the hands involved in creating our products are paid a fair, living wage and the materials are sourced ethically.
Empowering You To Be The Change.
Our 'Wear One, Share One' model means that all OutsideIn products come with an extra one for you to give to someone in need. It's an opportunity to connect, listen, share and bridge the gap between society and homelessness. A beanie isn't going to change the world, but you can. If you'd prefer us to give on your behalf, let us know at the checkout and we'll pass your gift on to our street team and partner organisations.